Behind the dishes is an idea, a bet. To set the bar very high for two professions in one and the same place: cookery and cocktail club. We could have chosen … but since one goes so well with the other...
At lunchtime, we offer a short menu inspired by our arrivals. Dinner will be governed by the codes of the aperitif-dinner. Whether it's lunchtime catering, evening hors d'oeuvres or cocktails, we are extremely meticulous in terms of local and responsible sourcing, finesse of execution and mouth feel. Our definition of "Hors d'oeuvre": it should reflect the spirit of a gastronomic dish in one bite. So, yes, it is s ambitious, but you can tell us what you think of that when you come to see us. For now, here's a little more information about us and the place, as an appetizer.
Maybe we already know each other because, technically, Le Soulier is the little brother of the restaurant Aux pieds sous la table (in the Arnaud Bernard neighborhood). Like him, we are part of the Deux-Mains group; our parent company. A mission-driven company, whose ambition is to prove that another kind of catering is possible: more sustainable, more respectful, more inclusive, fair. This is no easy task in the hospitality industry. And since we prefer to prove than to talk, here are some of the ways of doing things at Le Soulier.
WORKING WITH SHORT SUPPLY CHAINS. NURTURING A VIRTUOUS CIRCLE.
We are from here. From Toulouse. Why should what we serve you come from elsewhere? To source locally we must get up at first light, which is great since we are early early birds! Thanks to the time and effort we put in, and the countless meetings held, we ended up building relationships with many local producers who share our values and whose products we are proud to work with. Meat, fruit, vegetables... as soon as we can find something close to home and with as few intermediaries as possible: we'd go for it!
USE FRESH FOODS. THE 4 SEASONS, WE KNOW THE DRILL.
Using seasonal products is part of our way of cooking, even if we admit that in winter it is a bit more complicated than in spring when greengrocers give us their vitamin festival. It's also a way of varying the pleasures and putting on the menu certain things that we wouldn't necessarily have thought of. It requires a little more creativity. But we love it.
HEATING THE POT WITHOUT HEATING UP THE PLANET.
We do everything to ensure that the environmental impact of what we offer you is constantly decreasing. Reducing our waste by converting our suppliers to the use of returnable crates; equipping ourselves with machines that consume less energy and water; reusing grey water; making annual assessments of CO2 emissions, the weight of waste, water and electricity consumption... There is no miracle solution, but many actions can be put together to achieve significant results. The list is longer, this is just the beginning.
THE TEAM. WE WIN TOGETHER.
Team spirit cannot be decreed. It is built day after day. Clearly identifying managers, giving responsibility at all levels via the principle of subsidiarity by providing the means to achieve objectives, enables everyone to find and assume their place within the group. In short, the state of mind is a sum of elements that are sometimes very different from one another and often merged into a mantra. If we had to summarize ours, in sports terms we win together. Like the African saying goes, if you want to go fast, go alone – if you want to go far, go together.
QUALITY WORK LIFE. SELF FULFILMENT FOR ALL.
One of our greatest prides is the loyalty and trust shown to us by our employees. In fact, we are very attached to the quality of life at work. We use a reflexologist to prevent problems related to professional gestures; we are closed on weekends; we develop tasks to increase skills, we have introduced a bonus scheme for those who require to work split shifts… These are some examples of how our employees are now fulfilling themselves at work.
TRUST IS OUR CODE FROM START TO FINISH.
This is one thing we could have talked about first. Whether it's with our employees, our suppliers, our customers, in fact with everyone, we put trust at the heart of every relationship. We approach trust as an evolving positive energy we choose to cultivate from the outset with those we meet. It is also said that people who trust live more surrounded, longer and happier lives. So take that as a selfish calculation if you like, but we decided to trust.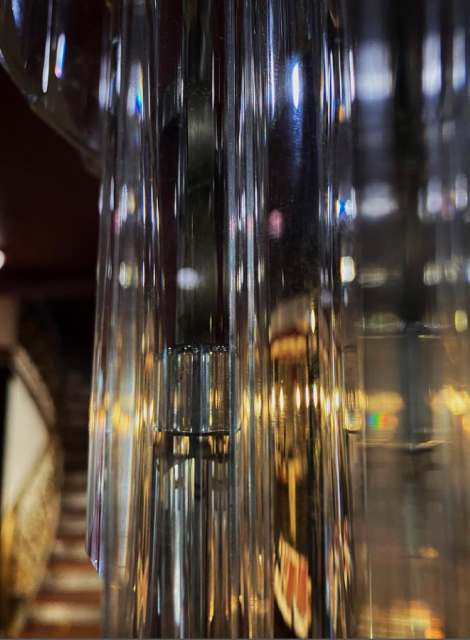 '3 place Montoulieu', in the heart of the Saint Etienne district, is not an insignificant local in Toulouse. It has a long history of gastronomy, and in the 18th century there was already an inn: "l'hôtellerie de la ville de Rodez".
More recently, nestled amidst the nearby prefecture, rectorate and Palais Niel, it was the renowned Le Vélane restaurant that occupied the premises for twenty years.
Finally, we are proud to take up the torch of Lune Bleue, which has made '3 place Montoulieu' a space for exchange and debate around the question of food.
Le Soulier, turned towards a future-oriented restaurant, draws its meaning from history and will be happy to welcome you to be part of this ongoing tradition.
For lunch or dinner, I'm coming!
Monday-Friday : 12H - 14H
Monday-Friday: 7pm - 10pm
Monday-Friday : 14H - 01H